Don't settle for your 2nd choice in commercial property maintenance this year.
Book your 2018 commercial property maintenance contract today and get the contractor you want. By the end of the month, your contractor of choice might already be booked for the year.
Get all your services in one place – skip the hassle of dealing with multiple service providers and renegotiating contracts every season.
Here's how a full service provider like us makes your job easier.
Grounds maintenance
Every commercial property should look clean and cared-for.
If you own or operate a condo, a messy property turns customers off in all but the most competitive markets.
With a grounds maintenance contract you get:
Grass cutting.
Lawn and garden care (fertilizing, aeration when necessary, watering).
Tree pruning when necessary.
Garden and path edging.
Leaf or clipping removal.
It's the kind of basic care that builds feelings of community in tenants and reduces rental turnover, making your job easier.
The less time you spend looking for and screening new tenants, the better!
Landscape design and construction
Attractive landscape design makes your property more inviting and desirable.
The high end clients you want appreciate the effort you put into landscape design.
Good landscape design makes a condo or apartment building far more desirable.
Your commercial property is more likely to stay front-of-mind with customers if it's attractive.
Investment in landscape design pays for itself.
Landscape design includes hardscape products. Walkways and common outdoor patio spaces have a significant impact on perception of your property. If your hardscape is out of date, this year is a great time to upgrade.
Irrigation design and maintenance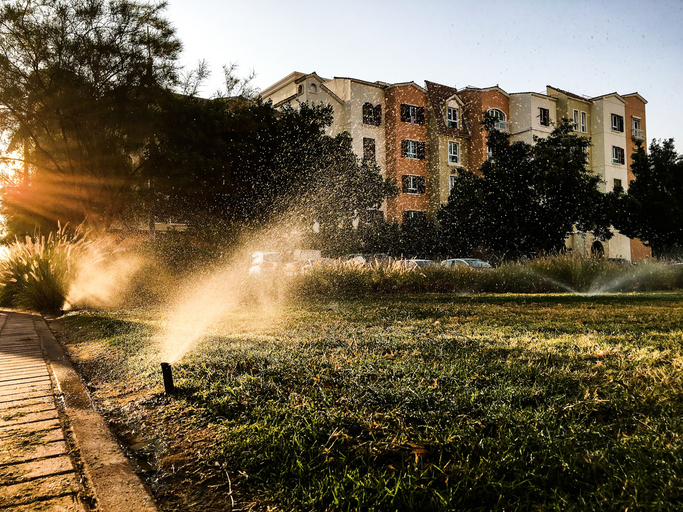 Your grounds maintenance team can't be there every day to water your grass, flowers and shrubs.
An irrigation system keeps your property healthy and vibrant between our visits.
Lots of property owners water when they notice the grounds need it, which is already too late. Many water at whatever time they are available, often turning on sprinklers during the midday, when water actually damages your plants.
An irrigation system set on a timer will water your plants at the right time in just the right amount.
It's a feature customers, tenants or buyers don't necessarily notice when it's there, but they certainly notice when it isn't.
Irrigation is a smart investment, especially when your contractor already has a detailed knowledge of your property.
Landscape lighting
Landscape lighting serves 2 purposes at your commercial property.
It makes tenants or customers feel safe (and actually increases safety, not just feelings of safety).
It keeps your property attractive after the sun goes down.
Visitors might not notice the intricate landscaping around your property if they come by in the evening, but they won't miss the attractive, intentional use of lights after dark.
Landscape lighting improves the feeling of community and safety around your property.
Snow and ice management
This is Ontario, and you must maintain a good program of snow and ice management on your property for:
If your commercial property isn't easily accessible during or after the big snow storm, you lose out on sales.
If your condo isn't accessible and safe, you risk tenants slipping, falling, and taking legal action.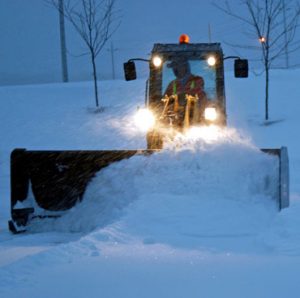 With a snow and ice management contract, you get:
Snow plowing.
Salt-free deicing
Shoveling for walkways and footpaths.
Working with a contractor through all 4 seasons means you get the personal, friendly service you want.
Plus, we're available 24/7 so your property is always accessible, even when an unexpected weather event hits.
Festive lighting installation
Nothing makes your property feel like more of a community space than festive lights during the holiday season.
It's part of the magic of this time of year, and you look a bit like a Grinch if bordering properties put up beautiful lights and you don't.
Festive lighting is another step you can take to make your property stand out. If neighbouring properties don't have lights up, yours stands out even more.
Don't miss out on getting all this service from your preferred contractor.
Call to book us for your full 2018 property maintenance schedule and get the comfort of a familiar team and the service your property needs to really stand out.