Creating a beautiful and eye-catching landscape doesn't have to take up all your free time. By reducing and streamlining your landscaping and gardening tasks, your outdoor spaces will thrive and explode with beauty while still allowing you to enjoy your downtime outdoors.   
Here are our 10 favourite tips for creating a low-maintenance landscape this summer: 
Mow Less – The trick to creating a gorgeous and low-maintenance lawn is mowing less, but perhaps not in the way you may think. It is a common belief that delaying mowing and allowing the grass to grow overly long and then cutting it very short will mean that it doesn't need to be mowed again for some time. The truth is, this method of mowing will kill your lawn slowly over time. The secret to a healthy lawn with the least frequent mowing lies in maintaining a consistent grass height throughout the warmer months. It is important to never remove more than a third of the grass blade length and allow the clippings to lie. Using these methods in combination will help you choke out weeds and maintain a low-maintenance, lush lawn, all year round.
Consider Artificial Turf – Artificial turf is the ultimate option when it comes to creating a low-maintenance outdoor space. Once installed, artificial turf requires virtually no maintenance and will look green and vibrant all year round. 
Make Watering Automatic – Investing in proper watering equipment can make keeping your lawn and plants hydrated a hands-off task. Pairing soaker hoses with dial-type timers can make automatic watering possible in any part of your yard. The use of soaker hoses saves water versus overhead sprinklers as the water lands on the root area of the beds. Installation of an irrigation system is also another option which can be automated to the homeowners preferences and help reduce overwatering.
Incorporate Mulch – Mulch is the best-kept secret when it comes to low-maintenance landscaping. Applying a layer of mulch that is 2-3 inches thick helps to suppress the growth of weeds and reduce the evaporation of water from the soil. This means less time spent weeding and watering. Maintaining the mulch is as simple as applying a fresh layer as necessary in order to maintain the ideal depth.
Place Plants Carefully – When placing plants in your outdoor space, take time to ensure that they are situated in a way that they will thrive. It is important to ensure that they receive adequate sunlight, appropriate soil, and enough space surrounding them so they can reach their full size. This means you won't have to spend time repeatedly pruning your shrubs to make them fit the space. 
Incorporate Hardscaping – Hardscaping simply refers to the use of pavers, bricks, and decorative stones to create usable spaces such as patios and pathways. Hardscaping means that those areas require little to no maintenance at all to always look beautiful.
Consider Raised Beds or Easy – Care Containers – Raised beds and container gardens offer vibrant splashes of colour to outdoor spaces, without the need to spend lots of time preparing and planting large garden beds. Consider planting shrubs that are colourful throughout the growing season as shrubs typically require less grooming and attention than annuals and will likely thrive as long as they receive adequate water. 
Choose Native Plants – Incorporating native and drought-tolerant plants into your outdoor space is one of the simplest and easiest ways to create a low-maintenance garden. Native plants by design will thrive in their environment and client without much intervention. They are naturally strong and hardy and possess natural defenses against pests, fungi, and invasive plants. Native plants require little maintenance beyond adequate sunlight and water and will bring vibrancy and colour to your space. 
Work With What You've Got – If there's an area where your grass is thin or simply isn't growing, consider swapping it out for some low-maintenance ornamental grasses. These types of plants incorporate visual interest and texture into an outdoor space, and caring for them is incredibly simple. In most cases, trimming ornamental grasses requires an annual trim or very little grooming. 
Swap Grass for Flowers – Maintaining a lawn requires extensive amounts of time, attention, and resources to ensure they look their best. Between mowing, weeding, watering, and feeding, keeping a grass lawn gorgeous can be a year-round effort. Reducing how much maintenance your outdoor space requires is often as simple as reducing the amount of lawn you have. Trading turf for gorgeous garden beds packed with flowering shrubs, ornamental grasses, and perennials is a simple way to create a beautiful and low-maintenance outdoor space.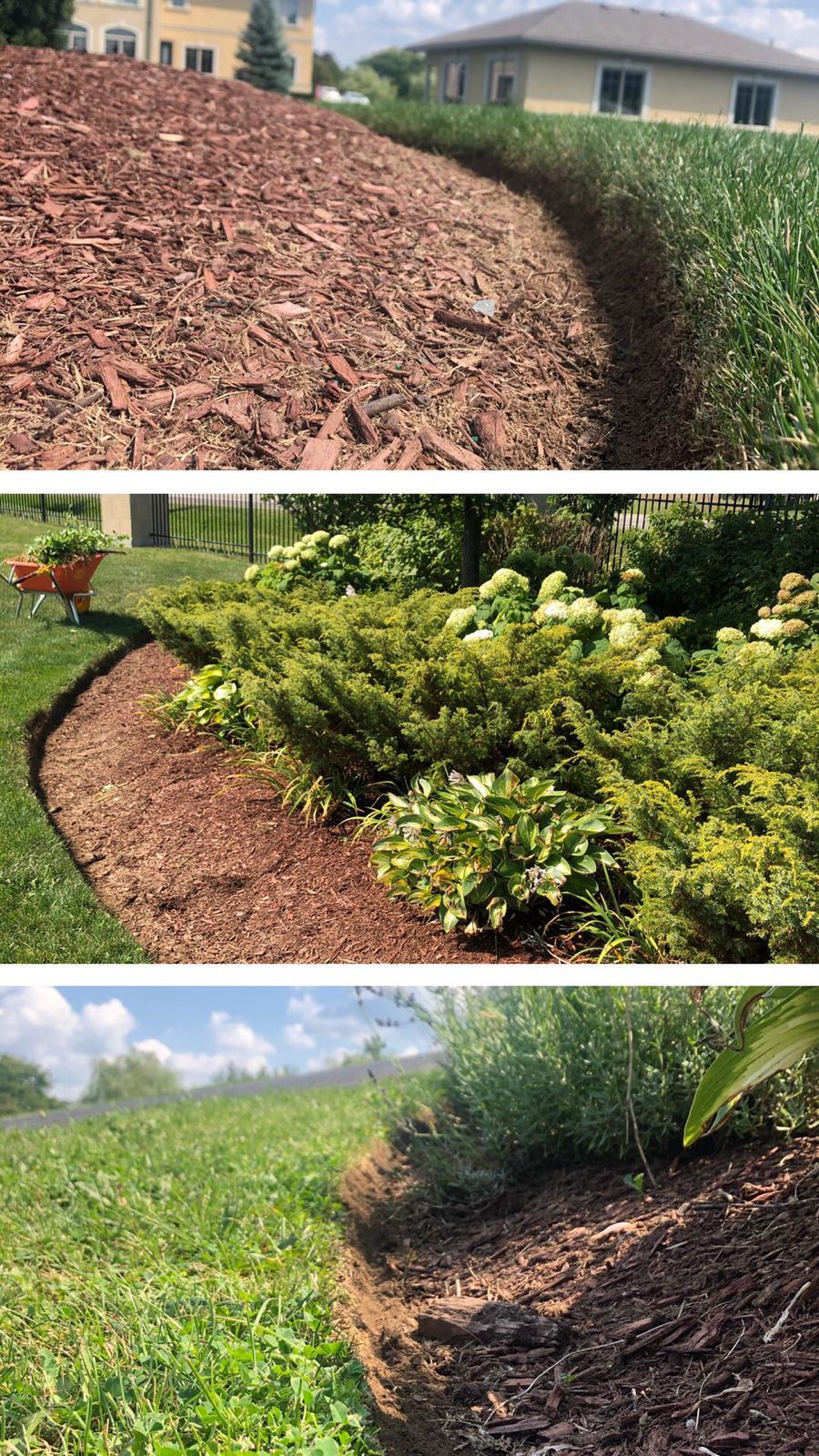 If you want to learn more about creating a low-maintenance outdoor space, or how we can help you achieve the landscape of your dreams, contact us at Mountview Services today!