If it's on your mind right now, why wait to book your winter property maintenance.
If you shrug it off today, you might not remember until the first snow falls. All the prime service slots will be taken by then, leaving your property inaccessible or partially blocked when your customers or tenants need access.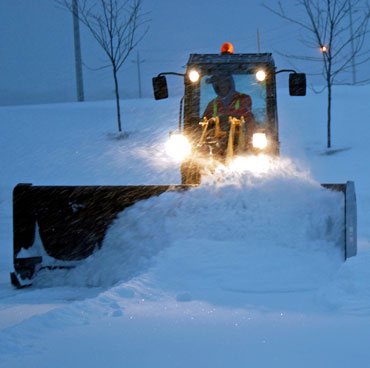 Customize your service to get exactly what you need
Commercial property maintenance and multi-unit residential property maintenance require more than one-size-fits-all solutions.
Our fleet of snow removal equipment includes:
Loaders and trucks.
Snow blowers.
Ice melt spreaders.
And, of course, shovels and elbow grease.
We can clear and deice every drive, parking lot and sidewalk on your site.
Don't worry about the salt
Salt-free deicing solutions significantly reduce the impact on your landscape when the snow runs off, and reduces the impact on pets, ponds and everything else you'll find on your property.
You can also show customers and tenants your holiday spirit by opting in for tasteful festive lighting installation.
Book early (like right now!) to get the most of your contract, including lighting installation. It's the best way to ensure you get exactly what you need this winter.
When the unexpected happens, call us!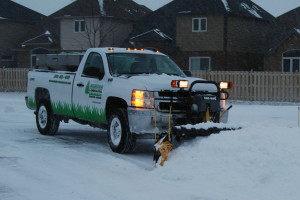 We're on call 24/7 to make sure your commercial property is clear and accessible when you need.
Book your winter property maintenance now so you don't have to compete for the time slot you want.
Wait too long and you could miss out on the service you rely on entirely.
To ensure we provide timely, responsive service, we only accept a set number of winter snow removal contracts.
Call Mountview Landscaping today to create your custom winter snow and ice removal program and enjoy peace of mind when the weather gets bad this winter.
Frequently Asked Questions
The landlord has the obligation to keep the building and its rental units in a good state of repair and comply with health and safety standards. It is the landlord's responsibility for snow removal and grass cutting. Under section 26 of Ontario Regulation 517, exterior common areas must be maintained by the landlord and this includes removing noxious weeds and any unsafe accumulation of ice and snow.  
Have your snow blower ready to go before the next snowfall with these routine maintenance tips.   
Check/Change the spark plug. If there is damage or deposits, replace the spark plug. If not, pop back in – and secure but not too tight.

 

Inspect the belts. If there is wear and tear on them, replace.

 

Check if the auger paddles are in good condition. If they don't hit the ground anymore, then they need to be replaced.

 

Check the shave plate. If it's worn on a single-stage snowblower, reverse it. If it's on a two-stage snowblower, replace it.

 

Flip the skid shoes. These let you set the height of your auger. If they look worn, flip them over and make a note to replace them next year.

 

Check to see if the Shear Pins are damaged.

 

Change the snow blower's oil

 

Fill it up with fresh gas and make sure to include a fuel stabilizer.

 
Many do, yes! And here's why: one company for both landscaping and snow removal eliminates the hassle of working with two different companies. Landscapers will already know your property, plus they will be more invested in the care of your plants and garden, as they are the ones maintaining it in the warmer months. Mountview Landscaping offers snow removal for commercial properties.