Make your home a magical place for your kids this year.
If you're anything like us, you want the holiday season to be a wonderful time for your kids.
The colourful lights and snow blanketing the neighbourhood make everything feel a little magical.
For every house that doesn't join in the festive fun, the magic is a little diminished. So it's up to you to make your home as bright and whimsical as you can during the season.
The kids are only at that perfect age for holiday wonder for a few years. Make the most of it and really get into the spirit this year with some of the funnest decorating trends.
Colourful lights are back
Elegant white lights took over the holiday season for a long time, but colourful lights started making a comeback over the last 3 years, and they'll be everywhere this year.
But colourful doesn't necessarily mean the classic reds, blues, oranges and greens (although they will certainly be popular this year).
More families are choosing different colours, including:
These different colour combinations still emulate that classic, bright rainbow look, but with a little more subtlety.
Earthy garland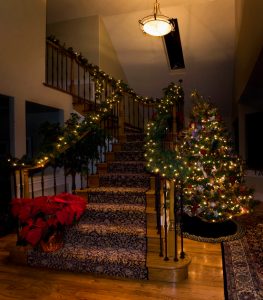 Garland running up the bannister or across the fireplace mantle brings that wintery forest feeling inside. It turns your house into something different and special the moment it goes up.
It's a staple in the movies your kids watch this time of year, so they already associate it with a kind of special feeling.
Spruce up your garland (pun intended) with:
A string of white LED lights.
Red bulb decorations.
Gold beads and stars.
Pine cones and holly berries.
Hula hoop chandeliers
Give your kids a light show in the bedrooms with something like a hula hoop chandelier.
It's a pretty easy project to complete yourself (or as a family!), and brings some of that outdoor magic inside.
Wrap an old hula hoop in lights.
Yellow or colourful traditional styles work best here.
Leave some string lights hanging down from the sides, like icicles.
Outdoor Christmas trees!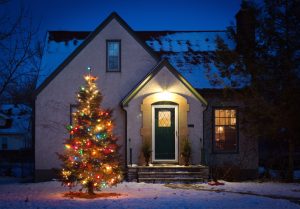 Outdoor tree decorating can be as flashy or subtle as you like.
Over the last few years, families requested more complete outdoor tree decorations.
Lit or animated tree toppers.
Colourful ornaments like bulbs and stars.
Ground lighting.
Let the kids think Christmas trees grow up from the ground this way!
Truly special outdoor lighting design.
Mass-produced Christmas scenes and pre-ordered designs are done.
More and more, families want an overall festive design based on the unique features of their home, property and neighbourhood.
Hanging baskets on the front porch with flickering candle-lights, backyard bird baths ringed with spouts of soft turquoise string lights to look like a pouring fountain, and colourful spotlights aimed at privacy bushes for a warmer ambiance.
We can install and automate your entire festive lighting setup so your kids get the full seasonal experience without the Clark Griswold holiday rant if something goes wrong.
Give your kids the most magical experience this winter and turn your house into the perfect winter wonderland.
We can help you design it and set it up. Call today to talk about your holiday decorating ideas.
Frequently Asked Questions
LED bulbs can last around 50,000 hours compared to standard bulbs, which last approximately 1000 hours. This means you'll get 50 times the amount of use from an LED string of lights than incandescent Christmas lights. LED lights also use less energy because they produce less heat while turned on. While you'll spend more upfront to purchase LED lights, you'll actually save over the lifetime of the bulbs in energy costs and replacement bulbs. 
LED lights are the best choice for outdoor lighting for many reasons. Most notably, LEDs offer a much brighter light, a longer life span, and they are typically made of a much harder plastic which means less broken glass. Not only are they considered safer to use because of the little heat they produce, they also don't require any heat to turn on – so it is always an "instant-on" even in freezing cold temperatures. 
Professional grade Christmas lights utilize a one-piece design, which means the LED diode and lens are in a single sealed socket. Therefore, dirt and water won't be able to enter the inside of the bulb which is the leading cause of light failure. Additionally, the electrical components inside professional-grade lights are far more superior to retail lights, which allows them to produce a much more brilliant and color-saturated effect.